Have you been staring at those empty walls in your home that are in desperate need of spicing up? If so, why not consider adorning the walls of your home with artwork? The choosing of art prints is completely up to your own personal taste, however, you should consider the following tips when doing so. Let's get started!
Considering Location
The location of your artwork can be essential, particularly if you are interested in conveying themes or creating a particular feel or environment, For example in the Lounge Room, you might consider depicting a theme of comfort and warmth to create an inviting atmosphere for your family and friends, wherein the bathroom or bedroom you may choose to display art that evokes a sense of peace and tranquillity.
You may contemplate this print for a space such as a bathroom.

Subject Matter
In choosing your art print, consider the style and subject matter you are searching for. Do you fancy inspirational text prints for daily encouragement? Do you like figurative or landscape art, or is your taste in vintage or modernity? Maybe you are into patterns and want to embellish your walls with unique designs? Or are you the type of person who likes to display images of memories such as family photos, weddings or travel?
If you are interested in a vintage style or subject matter, why not consider purchasing prints of old magazine covers such as the one below? Another suggestion is to choose a few prints and create your own art wall of vintage magazine covers.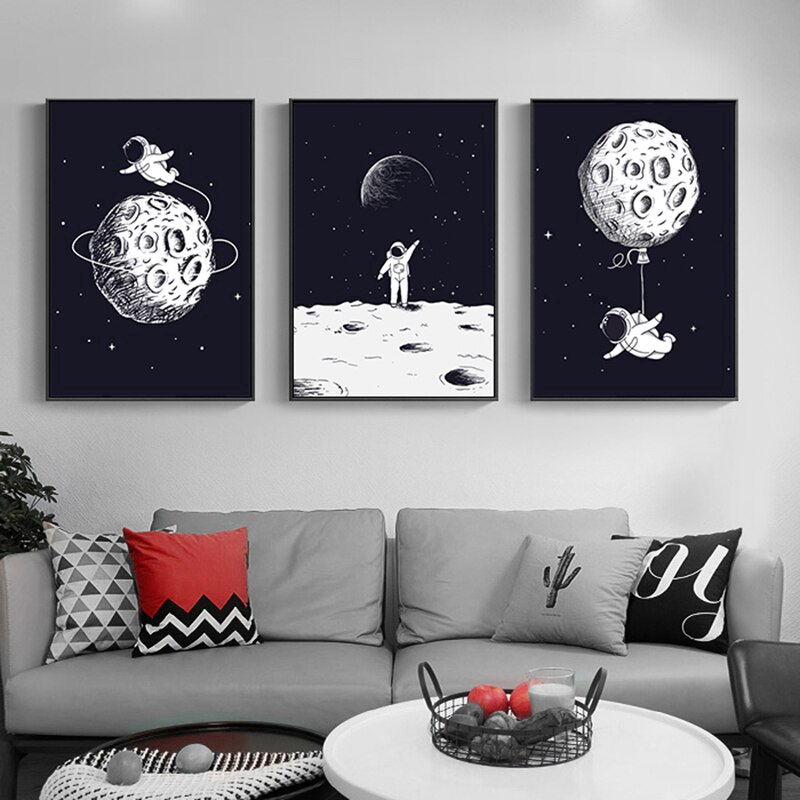 Colour 
Are you the type of person who fancies boldly coloured artworks or strong contrasts between black and white? Maybe you prefer a more subtle style in neutral and pastel colours? The colours that you use will reflect your own personal taste and can also be dependent on where you place the art in your house. For example, to create an inviting atmosphere in the lounge room, why not display some brighter colours? Even get creative by mixing and matching colours and see if they work with one another!
If you are interested in a neutral colour palette why not look into purchasing a sweet but elegant print like the one below?
Context
When embellishing your walls with art, you need to consider whether or not your prints will complement or fight other items in the same room. You might consider an artwork that makes a statement and creates a focal point, or maybe an artwork to blend in with and accent other items of décor. Other questions to consider are whether the prints are at the correct scale, and will they match the architecture of your home?
If you are interested in boldly coloured prints and are struggling to match them with the furniture around you, look for artwork that matches the colour scheme of the room like in the image below. You will be able to see that the colours in the artwork complement and match different items from around the room.
Finally, art prints do not necessarily have to hang on your wall. You may also want to decorate your dressing tables, drawers, shelves and benches with art prints. Depending on your taste you may even prefer leaning large prints on a wall and displaying them in such an innovative manner.
Like in the image below, you may consider choosing art and framing it to sit on a bench instead of a wall, which is also a delightful way to spice up your home.